Meet Our Exceptional Senior Living Team at Robson Reserve at PebbleCreek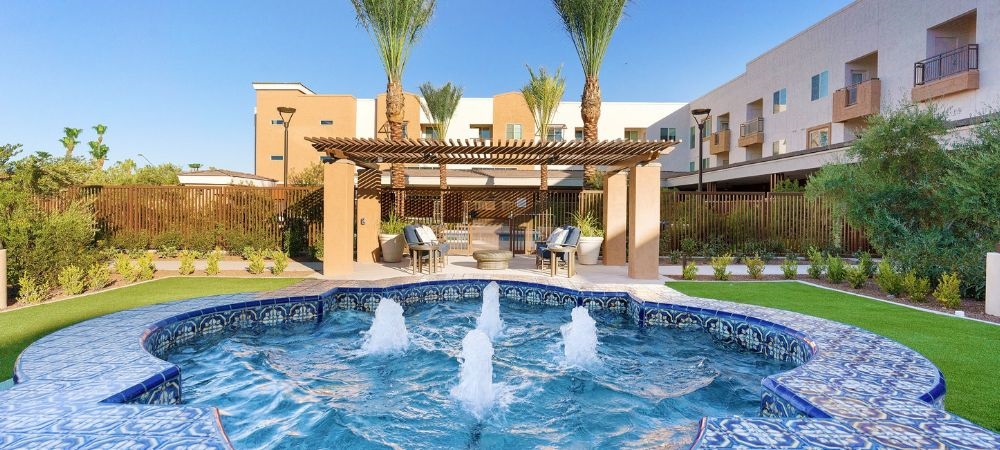 The team at Robson Reserve at PebbleCreek is dedicated to exceeding residents' expectations with outstanding services and positive daily experiences. Our compassionate senior care professionals are empowered to create a community of unparalleled hospitality, kindness, and meaningful memories. Meet our exceptional senior living team and discover what makes Robson Reserve in Goodyear a great luxury senior living option.
Jill Romo
Director of Sales and Marketing
A wonderful representative for our community, its residents and staff, Jill is passionate about helping seniors and their families discover all there is to know about the luxurious active lifestyle at Robson Reserve at PebbleCreek. A marathon runner in her spare time, Jill moved to Arizona from Northern California in 2015, fell in love with the senior living industry and finds daily inspiration in meeting with residents, potential residents and seniors in the metro Phoenix area. She takes great satisfaction in helping seniors not only find senior living housing, but also to be aware of the numerous Robson Reserve amenities and services designed to assist them in achieving a happy, healthy lifestyle.
Aneil Koerper
Regional Director of Life Enrichment
An avid supporter of functional fitness and fall prevention for seniors, Aneil grew up in Orange County, California. She graduated from California State University, Fullerton, with a Bachelor's Degree in Kinesiology. Then, she embarked on a career of training athletes and others, but a stint working with seniors sealed the proverbial deal for Aneil's passion for senior fitness and successful active aging. She holds a number of specialty certifications related to balance and mobility, strength and conditioning, functional aging, and fall prevention. An outdoors enthusiast and ardent animal lover, Aneil lives in Cave Creek with her husband and their young son. Her favorite pastimes include being with her family and anything associated with hiking, mountain biking, kayaking, wakeboarding, and camping.
Tyler Wood
Regional Maintenance Director
Tyler Wood is the Regional Maintenance Director for the Robson Senior Living communities. An Arizona native, he enjoys spending quality time outdoors with his wife and three children. He has a Criminal Justice degree from Phoenix College and more than 15 years of work experience in Facility Management. Tyler is actively involved in the community and an integral part of the team at Robson Reserve at PebbleCreek.
Kellie Moats
Director of Health Services
Kellie barely remembers a day when she didn't have a true passion for building meaningful relationships with seniors. Fortunately, she found a way to combine her enjoyment of working with the senior population with her professional aspirations. How is that, you ask? After earning a Bachelor of Science degree in Kinesiology plus a Vocational Nursing license, Kellie entered the senior living industry. Since then, she has accumulated a wealth of experience in independent, assisted living and memory care. She is a wonderful asset to the Robson Reserve staff and takes immense pride and self-satisfaction in providing seniors with the best possible care in an environment of love and compassion.
Elizabeth Hunt
Business Office Manager
Elizabeth Hunt has been with Robson Reserve at PebbleCreek since it opened in 2019. She is a long-time hospitality professional, having served as the Executive Director for the Rawlins-Carbon County Chamber of Commerce and Sales Director for Best Western hotels. Elizabeth's passion is incorporating her hospitality expertise at Robson Reserve by working with residents and family members to make the Reserve one of the best choices available for senior living in the Buckeye, Estrella, and Litchfield Park area and in Goodyear. Spending free time with her husband, two daughters, and her grand dog is a favorite pastime of hers.
Having an exceptional senior living team enhances the overall lifestyle for residents at Robson Reserve at PebbleCreek. The rewarding lifestyle here offers resort-like amenities, enriching activities, and senior living residences for independent living and assisted living.
When you are ready to experience exceptional senior living near Buckeye, Estrella, Peoria, and Verrado, contact Robson Reserve at PebbleCreek in Goodyear. 
Are you ready to join our team? Visit our careers page to learn more about available opportunities.