Ways to Celebrate the Holidays When You Live Away From Your Family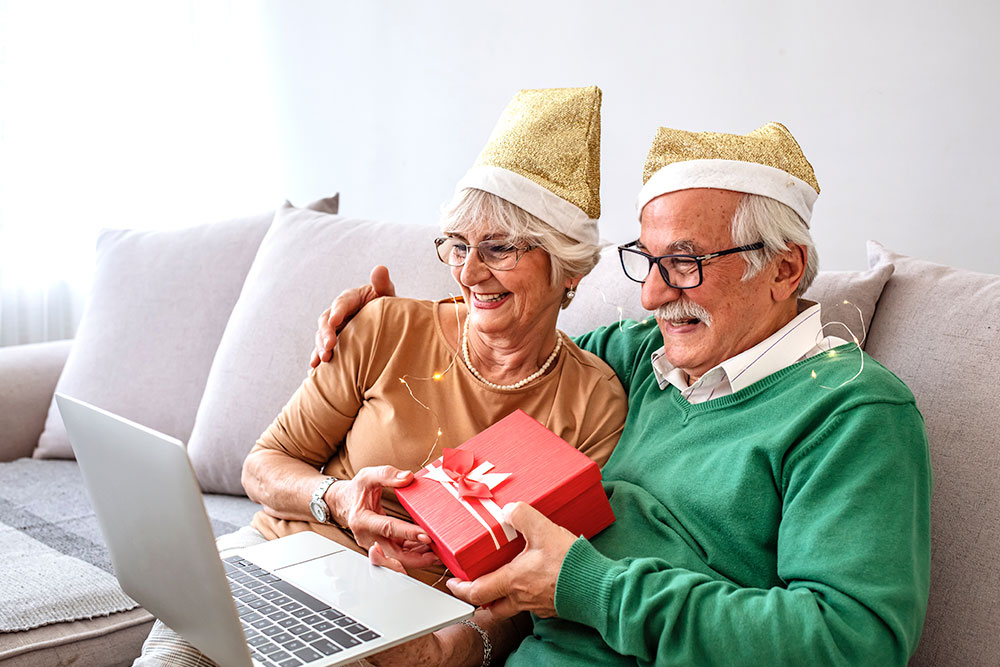 If you're like many older adults, you have friends and family spread out across the United States, sometimes, even further. That doesn't mean you can't celebrate the holidays and your favorite traditions with your loved ones.
Gathering online can still bring people together. A virtual celebration is a great way to stay connected with your loved ones and take part in holiday traditions. From the North Pole to Sun Lakes, AZ, look at these four tips on how to celebrate the holidays with your family no matter where you live:
1. Virtual cookie decorating party
Decorating cookies is a holiday celebration dear to many hearts, which is why it's important to keep this tradition going, even if you live far away.
Fortunately, this popular holiday tradition can be easily turned into a fantastic virtual event in just three simple steps:
Decide on a date, time and what platform you want to use for the party. FaceTime, Facebook Messenger and Zoom are great ways to host a virtual party.
The biggest key to making this holiday celebration easy is by having each person use the same pre-made gingerbread house kit, pre-made gingerbread people or sugar cookies. Guests can bake their cookies ahead of time or purchase them from the store.
Everyone can still add their own holiday twists by purchasing candy and extra icing. You can also make a small kit filled with candies and a handmade invitation for your virtual gingerbread decorating party, and mail one to each guest.
Though this party may be virtual, you should still expect a little mess. Advise guests to use holiday-themed disposable tablecloths and wear an apron to help with cleanup.
2. Throw a virtual watch party
Watching a holiday flick at the movie theater is a tradition celebrated by many families. While you won't be elbow-to-elbow or sharing a bucket of popcorn, a virtual watch party is still a fun way to stay close to your family.
If you and your family have access to Hulu, Disney+ or Amazon Prime, you can easily stream a holiday movie using the Hulu Watch Party, Disney+ GroupWatch or Amazon Watch Party options. Of course, you can keep it simple by tuning into something on live TV, like a football game or holiday parade.
For both watch party options, you'll need to communicate with your friends and family. Try setting up a video call, texting, or just having a phone call.
This is also the perfect opportunity to gift holiday snack kits. Seal cookies and other treats in an airtight container, package them securely and mail them just in time for your guests to eat at your watch party.
3. Host a virtual New Year's Eve party
Planning a virtual holiday party is a lot like planning for a traditional one. After you've determined the date, time and which video call technology you like best, you can focus on themes, party games and other ways to entertain your guests.
Hosting a virtual New Year's Eve (NYE) party is a wonderful way for family members of all ages to take part. Loved ones can join from different time zones and everyone stays warm inside.
Check out these tips on how to make your holiday celebration special for 2023:
Champagne or sham. Create true or false questions about this traditional NYE beverage. Whoever gets the most points correct, wins.
Guess the resolution. Have guests of all ages send you their New Year's resolutions ahead of your virtual celebration. Read them aloud during your party and see if your guests can match the right resolution with the right person.
Dress up. Many people consider New Year's Eve to be one of the fanciest celebrations of the year. Send out an optional dress code that calls for cocktail dresses, suits or anything that sparkles.
Watch the ball drop. Watching the broadcast of the ball drop in Times Square has been the highlight of many NYE parties, and virtual celebrations are no exception. Throw a virtual watch party by setting up a live stream or by tuning into a comparable celebration in your community.
To stir up excitement for your virtual get-together, consider sending electronic invitations (evites) in place of a link or text message.
4. Coordinate virtual celebrations early
Just because you're not in the same location, doesn't mean you can't take part in traditions like holiday tree lightings, lighting candles or opening presents.
All it takes is a little holiday magic and some coordination. Here are some quick tips on how to sync up your favorite celebrations virtually:
Prepare. Whether it's a few hours or the night before, test the equipment and video messaging programs you plan to use for your virtual get-together. It might also be a good time to tidy up your space and check your camera settings. Becoming familiar with how everything works will help you celebrate with more confidence.
Schedule ahead of time. The holidays are a busy time of year, and many families become overwhelmed with all the festivities. Schedule which events you want to be a part of ahead of time and stay in communication throughout the holidays to help everyone keep track of upcoming virtual events.
Put your own spin on it. There are many ways to put a special twist on your virtual get-together. If you're planning on opening gifts in the morning, you and your family members can wear matching pajamas, or if you're celebrating in the evening, try having a holiday Happy Hour.
Virtual events. Many places of worship, community centers and local businesses have virtual events. You can join online events your family is attending in person or your whole family can sign up for the same event.
Ask for help. If there are holiday traditions you want to be a part of but aren't sure how to participate in them virtually, ask your family members for help.
Invite outside guests. The holidays can be tough for anyone living away from family. Invite friends and neighbors to virtual parties. That way, you can spread holiday cheer near and far.
Unwrap a Lifestyle Curated for Your Happiness at Robson Reserve at Sun Lakes
Our senior living community in Sun Lakes, AZ, is where life shines 365 days a year. With luxurious, maintenance-free apartment homes, our community is the perfect place for both traditional and virtual events. To learn more about Robson Reserve at Sun Lakes, contact our team online or call us at 1-800-701-5996. We'd love to connect with you!