Robson Residents Say It Best

Curious what life is like at Robson Reserve? Find out what one of our residents, Leo, has to say about our luxury senior community.
Last year, Leo made the decision to leave Ohio in order to be closer to his daughter in the greater Phoenix area. Knowing that he wanted to find someplace that offered assisted living, he decided he couldn't pass up the whole package Robson Reserve offered to its residents. According to Leo, he couldn't be happier with his decision.
When asked about his favorite part about living at Robson Reserve, Leo said "There's something to do most of the time. Staying social is important to me and I love the events they put on here in the community. I've been interested in at least 90% of everything that comes up." Leo expressed his love for the robust social environment at Robson Reserve, saying that he always feels he has something to do and that he loves to stay involved.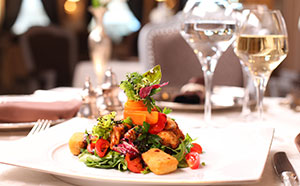 When it comes to Leo's favorite amenities, he "loves the physical fitness room and the movie theater. It's everything really, including the food." he said. "You can't forget about the food, it's fantastic here. And that means a lot to me."
Healthy and seasonal meals for our senior residents
Leo has a food allergy and expressed how easy it has been for him to ensure his needs are met. When asked about his favorite food, Leo says that "he doesn't have a favorite, just about anything that comes out of the restaurant is his favorite."
At Robson Reserve, we strive to provide our residents with a wide variety of activities and amenities to promote a lifestyle of engagement and enjoyment.