Top 20 Gifts to Get Your Parent This Holiday Season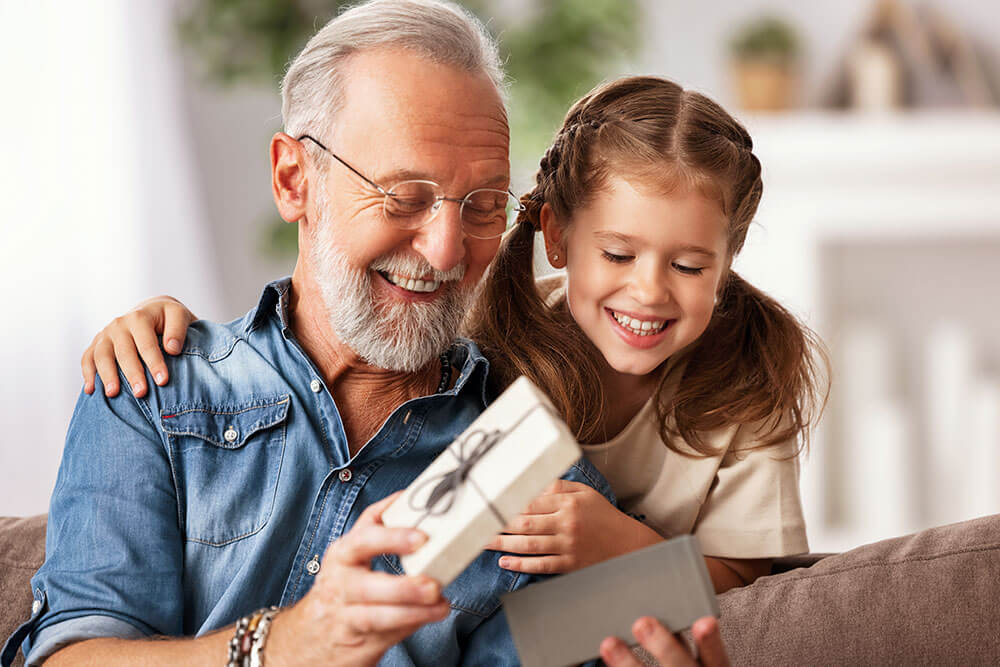 If you've been searching for a thoughtful gift your older loved one will use and enjoy, we've got you covered. From gifts that are practical to presents that provide a little peace, check out these 20 ideas in our holiday gift guide for seniors to find something your mom and dad will love. 
1. Binoculars
A good pair of binoculars are essential for anyone who loves the outdoors. Full-size binoculars are ideal for birding, astronomy  binoculars are perfect for stargazers, and lightweight travel tripods work well for hikers and travelers.
2. Camping chair
This gift is great for campers, tailgaters, and porch- and patio-sitters. Customize camping chairs with embroidered initials, find one with a logo of your loved one's favorite sports team, or gift your mom and dad a two-seater.
3. Inflatable paddle board
Inflatable paddle boards are fantastic holiday gifts for 55+ active seniors, because it's an easy way to stay active, and it doesn't take up a lot of space. Make your gift a little sweeter by adding an electric pump and extendable paddles. 
4. National Park pass
An annual National Park pass gives you access to all 63 national parks and 2,000 federal recreation sites, including places like The Grand Canyon, Death Valley National Park and Zion National Park.
5. Solar speakers
Solar speakers are perfect for places that get a lot of sun like our senior living community in Goodyear, AZ. They rely on the sun's energy to stay powered, which means you never have to worry about plugging them in or replacing their batteries.
6. Trekking poles
A quality set of trekking poles can protect your knees, reduce injuries on the trail, make your hike easier, and help keep you balanced on loose or slippery terrain. They make great holiday gifts for all levels of outdoor enthusiasts and don't take up much space. 
7. Water and food bowls for their pet
There's nothing like a new bowl from your favorite family member. A collapsible dog bowl is for perfect pups who take their humans on extra long walks. Or a bowl set that matches your family member's kitchen decor might be the cat's meow.
8. Subscription box for pets
This is a holiday gift even the birds will squawk about. Gift your loved one a monthly subscription box for their pet. You can find boxes for birds, cats, dogs, and fish.
9. Apron
Aprons are a splendid gift for seniors who love to bake, cook or craft, because they come in all shapes, sizes and patterns. They're inexpensive and lightweight, which makes an apron a great gift to send in the mail. 
10. Coffee
Our holiday gift guide for seniors wouldn't be complete without a gift for coffee lovers! Buy a monthly subscription box filled with flavors around the world, order a custom blend, or simply stock your mom and dad's pantry with plenty of their favorite brew. Of course, this also works for tea lovers!
11. Smart mug or beverage chiller
Smart mugs keep beverages like hot coffee, tea, and cider the perfect temperature, so you can take your time and enjoy your drink without reheating it. Instant beverage chillers are great for cooling down cans of soda or sparkling water. Both make great holiday gifts for seniors who love to tailgate!
12. Family cookbook
Your mom and dad can hold delicious history in their hands with a family cookbook. You can make one by hand by writing or printing family recipes, filling in a blank cookbook, making a recipe box ,or creating a custom cookbook online.
13. E-reader 
E-readers save space and offer an abundant selection of books and magazines that suit any interest. Many e-readers feature touch screens, plenty of storage space and adjustable lighting. Waterproof e-readers are wonderful for seniors who like to lounge by the pool. 
14. Golf rangefinder
Does your mom or dad like to hit the links? A rangefinder is the perfect addition to any golf bag. It measures the distance from your golf ball to the pin or other target area on the golf course to help improve the accuracy of your shot.
15. Voice-controlled virtual assistant
Voice-controlled virtual assistants like Amazon Echo or Google Home listen for specific spoken commands that help make daily life a little more convenient. Your mom or dad can set daily medication reminders, ask questions, listen to music and more. Even better, you don't need a lot of experience with technology to use one.
16. Fitness tracker
Because of their versatility, fitness trackers  make excellent holiday gifts for active seniors over 55. Whether your parents like to keep count of their daily steps, hit the trail on their bike or swim a couple of laps  in the pool, you can find a fitness tracker that matches their energy and interests. 
17. Wireless charging station
If your mom or dad has smart technology with wireless charging capabilities, help them embrace it with a wireless charging station. It makes charging devices like cell phones and headphones a breeze, and it  gets rid of annoying cord clutter.
18. Aromatherapy
Create relaxing moments for your loved ones throughout the year with an aromatherapy diffuser, their favorite essential oils, shower steamers, scented eye pillows or refreshing linen spray. You can also add in their favorite lotions, perfume, cologne or body wash.
19. Yoga mat
Even the most experienced yogi has a difficult time spending money on a high-quality yoga mat. Enhance their practice and take pressure off their wrists and knees with a cushioned yoga mat and matching bag to carry their mat to and from class.
20. Sleep accessories 
Who couldn't use a great night's sleep? Consider buying your parents a high-quality sheet set, noise-canceling headphones, a top-of-the-line humidifier, or memory foam pillow to help them catch more z's in the coming year.
Discover a Lifestyle Worth Celebrating Every Day at Robson Reserve at PebbleCreek
We're topping our holiday gift guide for seniors off with the best gift of all — luxury living! Robson Reserve at PebbleCreek is a welcoming senior living community for 55+ active adults, where you'll be surrounded by friendly neighbors, life-enriching activities and exceptional dining. Contact our team online or call us at 1-800-940-9697 to schedule an in-person visit.