Common Senior Living Terms

When looking for a senior living community, you may notice that there are many terms communities use to describe themselves and their services. Take a look at our list of common senior living terms, to help navigate the options when you are ready to choose a senior living community.
ADL: One common acronym you may come across when looking at senior living communities is ADL. ADL stands for "Activities of Daily Living", which are common tasks that individuals need to complete on a daily basis. These activities include bathing, dressing, walking, eating etc. At Robson Reserve, we offer a variety of services to assist with activities of daily living.
Assisted Living Community:  An assisted living community is a type of senior community where residents retain some levels of independence, often in a private residence or suite, while receiving varying degrees of assistance from care staff and offer residents meal plans, activities and amenities. Located in Goodyear, Arizona, Robson Reserve offers assisted living residents with a variety of well-equipped residences, quality care services, chef-inspired dining options, luxury amenities and a calendar full of activities.
Caregiver: A caregiver refers to the primary, or one of the primary people responsible for care of another person that has needs they cannot achieve by themselves. Caregivers may be a relative, but oftentimes at a senior community, they are certified professionals trained to provide medical and other care services.
Continuum of Care: Continuum of care is the idea that as an individual's needs change, their level of care changes along with their needs. This means that they do not have to spend time going from one place to other finding new types of support.
Independent Living Community: An independent living community is a senior living option that focuses on an independent lifestyle, oftentimes geared towards active seniors. Independent living communities may still offer some assistance in care, but also offer amenities, social activities and groups that promote independence. At Robson Reserve, independent living offers active seniors the perfect blend of independence and luxury. Our low-maintenance residences allow more time to enjoy the abundance of community amenities and activities without the hassle of home upkeep and maintenance.
IADL: IADL stands for instrumental activities of daily living. Although their names sound similar, these tasks are different than ADL. Rather than focusing on the individual or their ability to move and function, these tasks focus on maintaining independence in the outside world. These can include handling finances, arranging transportation for themselves or taking care of any other personal affairs.
Medication Management:  Medication management provides support for those that may need help with consistently taking multiple medications. Proper medication management can help achieve optimal medication outcomes.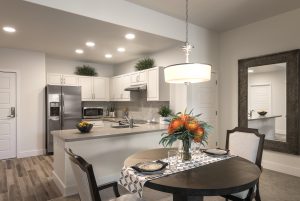 Personal Care: Personal care describes the activities we do to take care of ourselves. It is very similar to ADL, but focuses solely on the individual. These activities include bathing, brushing your teeth, dressing and additional personal hygiene necessities. Many assisted living services include levels of personal care.
Senior Residence: A senior residence refers to an individual residence, suite or unit within a campus, complex or community. Senior residences are designed with elements specifically for residents aged 55 and greater. At Robson Reserve, we offer six floorplans specifically designed for seniors and feature in-suite washer and dryer, a full kitchen and upgrades throughout to make you feel right at home.
About Senior Living at the Reserve in Goodyear
At Robson Reserve, we offer independent living and assisted living to seniors in the Phoenix Metro Area. Our goal is to provide seniors with a community that includes everything they want and need such as gourmet-dining options, activities, amenities, and multiple levels of care. To learn more, give us a call at 623-535-1613.