Dining at Robson Reserve in Goodyear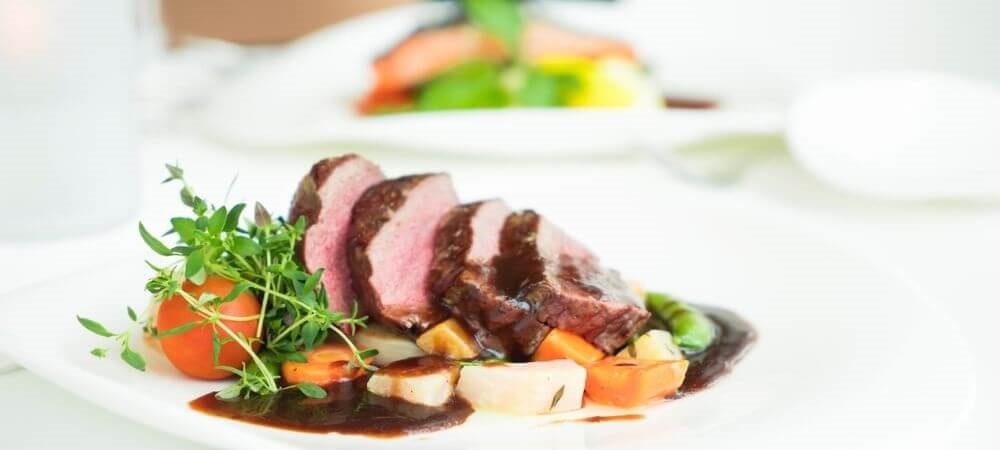 Robson Reserve at PebbleCreek is a luxury senior community located in Goodyear, Arizona. Dining at the Reserve is a highlight of the community, with a focus on providing residents with a variety of high-quality meals that cater to their unique tastes and dietary needs. Take a look below at a few things you can look forward to when dining at this senior community.
What you can expect when dining at Robson Reserve in Goodyear
1. A Variety of Dining Options: Whether you are independent living or assisted living, Robson Reserve offers a variety of dining options, including a full-service dining room, a bistro, and a bar. Each dining venue has its own unique atmosphere, allowing residents to choose the perfect setting for their meals.
2. Fresh, Seasonal Ingredients: The chef at the Reserve uses only the freshest, highest-quality ingredients to prepare their dishes. They work with local farmers and suppliers to source seasonal produce and other ingredients whenever possible.
3. Personalized Menus: The Reserve's dining team works closely with residents to create personalized menus that meet their individual needs and preferences. They offer a range of options, including gluten-free, vegetarian, and low-sodium dishes.
4. Chef-Prepared Meals: Professional chefs and an extensive culinary team prepare all meals at Robson Reserve. They take pride in creating delicious and visually appealing dishes that are both healthy and satisfying for seniors.
5. Restaurant-Style Service: The main dining room at the Reserve in Goodyear offers restaurant-style dining, complete with an attentive dining team and a menu of daily specials. The bar is also fully stocked, offering a range of beer, wine, and cocktails.
6. Social Dining Experience: Dining at this senior living community near Estrella, Victory at Verrado and Litchfield Park is designed to be social and welcoming, providing residents with an opportunity to connect with their neighbors and make new friends over a delicious meal.
Dining at the Reserve in Goodyear makes mealtime an enjoyable and meaningful part of residents' daily routines.
Overall, dining at the Reserve is an exceptional experience that goes beyond just providing meals. The community's focus on fresh, high-quality ingredients, personalized menus, and attentive service ensures that residents can enjoy delicious, healthy meals in a welcoming and social environment. Take a look at a sample menu.
Meet the Executive Chef
Manny Inzunza, Robson Reserve at PebbleCreek
Always on the hunt for new culinary experiences, Executive Chef Manny Inzunza worked at several other luxury communities before coming to Robson Reserve at PebbleCreek in June of 2021. Since starting here at the Reserve, Chef Manny has been instrumental in upping the appetizing ante for residents. With a focus on locally sourced (and freshest of the fresh!) ingredients, Chef Manny and his top-notch team have a passion for making every meal as special as every resident. In addition to utilizing his years of culinary experience to better the health of residents, Chef Manny is dedicated to serving everyone here with a wealth of personalized attention.
Indeed, this meticulous Chef strives to check all the boxes when it comes to residents' dietary desires, needs and preferences. Does your doctor's advice include lean meats, low-sodium entrees, and salt-free soups? No problem. Do you prefer plant-based and/or no-dairy dishes? At the Reserve in Goodyear, we are more than A-OK with that. Are high-quality animal proteins important to you? Count us in. Do you crave heavenly whole grains that pack a powerful nutritional punch? Yum for sure. The bottom line is whatever your cuisine-related desires are; Chef Manny and his team have you covered!
Q&A with Chef Manny at the Reserve in Goodyear
You've heard the saying before. Food is the best way to someone's heart. From a healthy berry and chicken salad to a creamy chicken pot pie, the culinary team at Robson Reserve at PebbleCreek and strives to make the best meals that are both nutritious and fulfilling for our residents. But don't take our word for it – read our Q&A with the Executive Chef, Manny from the Reserve in Goodyear.
Tell me a bit more about your background.
Before working at the Reserve in Goodyear, I worked in a handful of other communities. I began in the culinary industry at the age of 15 as a dishwasher and I took every learning opportunity available to move upward as a line cook, kitchen manager, sous chef, and now I'm the Executive Chef here at Robson Reserve at PebbleCreek.
What would you say sets the dining at Robson Reserve at PebbleCreek apart from other senior communities?
Me. That I'm working here. Just kidding. Really, what sets us apart is the fact that we look for quality in our food on a daily basis. We want to make dining with us a special experience for our residents and their guests. I think getting to work closely with resident every day and an outstanding team sets us apart.
What is your favorite part about being Executive Chef at this senior living community?
I think my favorite part is that it's such a growing community. There's always new move ins or guests of residents coming in, and I enjoy getting to know them all individually and what they're looking for. I also really enjoy getting to work with a younger crew in the kitchen. I get to work side by side with them and I get to share my knowledge to help build them up in their career goals.
What would you tell one of your new cooks?
To pay attention to the details of your day-to-day and never sell yourself short when you are on the line. Always be confident!
Is Dining Important for Independent Living Seniors?
As we age, our dietary needs and preferences can change, making it essential to receive proper nutrition and a well-balanced diet. This is where independent living communities come in, providing seniors with an enjoyable environment that also offers high-quality dining and food services.
At the Reserve at PebbleCreek, an independent living community, residents can enjoy a variety of delicious meals prepared by professional chefs who have experience cooking for seniors. These meals are offered in the community's elegant dining areas, creating an opportunity for residents to socialize.
In addition to the main meals, this independent living community also offers snacks and beverages throughout the day. This can include fresh fruit, baked goods, and even happy hour drinks.
An additional benefit of dining at Robson Reserve in Goodyear is that it can eliminate the need to plan, shop for, and prepare large meals. This not only saves time but also reduces stress and allows seniors to focus on other activities that they enjoy.
Overall, dining and food in an independent living community play a crucial role in promoting the health, well-being, and happiness of seniors. By providing delicious and nutritious meals in a vibrant and social setting, Robson Reserve at PebbleCreek makes it easier for residents to maintain a healthy diet and enjoy their golden years to the fullest.
Come visit us at Robson Reserve at PebbleCreek!
Are you looking for senior living housing near Estrella, Buckeye, or the Avondale area? Robson Reserve in Goodyear, a luxury senior community, offers independent living as well as assisted living. We invite you to contact us here or visit us today and learn more!
Robson Reserve at PebbleCreek
15833 W. Clubhouse Drive
Goodyear, AZ 85395
Directions