Get to Know the Senior Retirement Living Team in Sun Lakes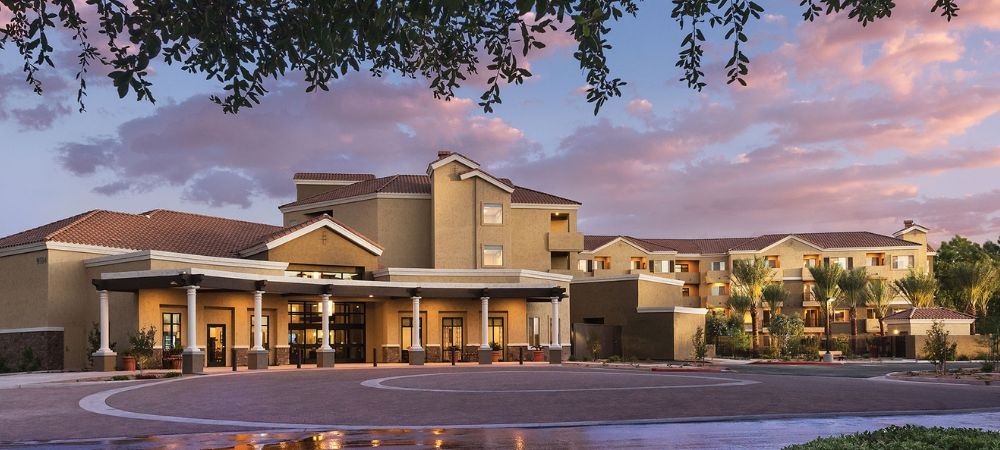 Robson Reserve at Sun Lakes offers much more than senior living options. From the moment you arrive at this senior community, the welcoming team is there to greet you. The team is the heart of the community and provides residents with enriched experiences, compassion, and high-quality hospitality every day. Get to know the luxury senior retirement living team at Robson Reserve in Sun Lakes.
Lance Williams
Executive Director
Passionate about leadership development as well as organizational health and growth, Lance Williams has a unique personal and professional background that includes a Master of Divinity Degree from Phoenix Seminary, a Nursing Home Administration License and an Assisted Living Manager Certificate. Prior to joining Robson Reserve at Sun Lakes, Lance held senior living leadership roles in areas as diverse and all-encompassing as risk management, business development, assisted living management and health services administration. Rarely seen without his trademark ear-to-ear smile, Lance's roots are in the Midwest and on the East Coast, however, he and his family (which includes his wife and two sons) consider themselves practically Arizona natives now, having lived in the Grand Canyon state for more than 15 years.
Delonda Papaianni
Assistant Executive Director
Driven by an innate sense of excellence, integrity, passion, and dedication, Delonda enjoys a rock-solid reputation for her superb marketing skills and strong administrative background. In addition to her professional attributes, this tenacious Texas-native and mother of two exudes an always-positive vibe that creates a warm and welcoming environment for both residents and team members. An important part of the leadership team responsible for overseeing resident and family services, Delonda works directly with the Senior Vice President of Operations to maintain high-quality services for residents in all levels of care. Well-loved by her co-workers, Delonda is known for her sincerity and reliability. She is celebrating her 10th anniversary this year and loves being part of the senior retirement living team.
Kristin Carlson
Sales & Marketing Director
Originally from the Chicago area, Kristin is the embodiment of strong Midwestern values where honesty, integrity and decency are principles to live by, something she does every single day. She's a firm believer in a people-first value system, indeed she's happiest when she knows she's making a difference in the lives of others. And make a positive difference she does, combining passion with compassion to help seniors and their families find the perfect senior living home. Kristin, who has two adult daughters and two grandsons, attended college in Illinois where she studied marketing. In her free time, you can find her hiking in our magnificent Sonoran desert or lining up a putt for par on the golf course.
Dale Russell
Community Relations Director
She's called the U.S. home for 20+ years, but when Dale's around, there's instant camaraderie with her fellow Canadians — yep, Dale was born, raised and educated in Canada. Well-known for her light-hearted sense of humor, Dale has 15 years of experience in senior living sales and attributes her success to her ability to connect passion with purpose. She hails from a large family with strong core principles that are an ingrained part of Dale's persona. Her natural whimsy combined with her easy-going values-based belief system creates the perfect je ne sais quoi to work with seniors. Dale lives with her husband and two dogs in a Robson Resort Community.
Aneil Koerper
Regional Director of Life Enrichment
An avid supporter of functional fitness and fall prevention for seniors, Aneil grew up in Orange County, California and graduated from California State University, Fullerton, with a Bachelor's Degree in Kinesiology. She embarked on a career of training athletes and others, but a stint working with seniors sealed the proverbial deal for Aneil's passion for senior fitness and successful active aging. She holds a number of specialty certifications related to balance and mobility, strength and conditioning, functional aging and fall prevention. An outdoors enthusiast and ardent animal-lover, Aneil lives in Cave Creek with her husband and their young son. Her favorite pastimes include being with her family and anything associated with hiking, mountain biking, kayaking, wakeboarding and camping.
Jay McKnight
Life Enrichment Director
Jay received a bachelor's degree in kinesiology and sport management in Pennsylvania, where he was born and raised. In 2015, Jay moved to Arizona and began working in Phoenix at an active aging community. He started out as a fitness coordinator who worked at all care levels. Since then, Jay has earned certifications in leadership of wellness and certified functional aging. With his fiancé and newborn son, they recently moved into a beautiful home in the San Tan Valley area. In September of 2022, Jay started working as a Life Enrichment Coordinator at our Sun Lakes senior community.
Tyler Wood
Regional Maintenance Director
Tyler Wood is the Regional Maintenance Director for the Robson Senior Living communities. An Arizona native, he enjoys spending quality time outdoors with his wife and three children. He has a Criminal Justice degree from Phoenix College and more than 15 years of work experience in Facility Management. Tyler is actively involved in the community and an integral part of the team at Robson Reserve at Sun Lakes.
Jim Barrett
Food & Beverage Director
In November of 2021, Jim Barrett became the Food and Beverage Director at Robson Reserve at Sun Lakes in the Chandler area. Over the course of his 33 years in the restaurant and hospitality industry, he has gained valuable experience. In particular, he has 19 years of experience working for Morrison Healthcare and Morrison Living. Jim has mostly worked and trained in the Southwest, including Utah, Arizona, Nevada, and New Mexico. He is a dad of one and loves investing the greater part of his free energy with him. Additionally, Jim is very involved in helping others and volunteering in the community.
Jim considers the Reserve at Sun Lakes residents to be members of his family. Because of this, his primary objective each day is to prepare and serve the highest quality food with a team that is well-trained and experienced. Jim makes sure that every resident has a great time dining, not just with the food but also with the service and the setting.
Kimberly Anderson
Business Office Manager
Born in Minnesota, Kimberly later relocated to Arizona when she was a small child. She studied at Northern Arizona University and graduated with a bachelor's degree in arts with a concentration in administration and multidisciplinary studies. In 2013, Kimberly joined the Robson Reserve at Sun Lakes team as an activities aide. Later she became a secretarial assistant before becoming the business office manager. Kimberly likes her job in senior living and has a passion for improving the lives of the independent and assisted living residents she serves.
James Munos
Maintenance Director
James grew up in Yuma, Arizona and worked in residential construction before moving to Southern California for five years. He then returned to Arizona and completed an apprenticeship for HVAC and Electrical. After graduating, James began his career and became the Maintenance Director at Robson Reserve at Sun Lakes. He recently celebrated his 20-year anniversary there and he is incredibly proud of his role with the senior living team in Sun Lakes!
Candi Martin
Human Resource Administrator
Born in Flagstaff and raised in the East Valley, Candi is an Arizona native. Previously working in the criminal justice field with an associate's degree, three years ago she made a career switch to human resources. She has since fallen in love with senior living and Robson Reserve at Sun Lakes. She considers this decision her best yet and she is looking forward to developing further within the company.
The senior retirement living team at Robson Reserve at Sun Lakes truly believes in fostering an exceptional community for seniors. From the Wellness Program to the services and amenities everything is in place for your senior living needs. Discover the independent living, assisted living, and memory care options.
If you are ready to explore freedom from home ownership responsibilities and enjoy high-end senior living, you've come to the right place. Robson Reserve at Sun Lakes is located near everything you love about the East Valley with Chandler, Gilbert, and Mesa nearby. Contact us today to learn more and schedule a personal tour.
Is working with seniors your passion? Are you ready to join our senior retirement living team? Visit our careers page to learn more about available opportunities at Robson Reserve at Sun Lakes.