Getting ready to move to a senior community? Time to declutter…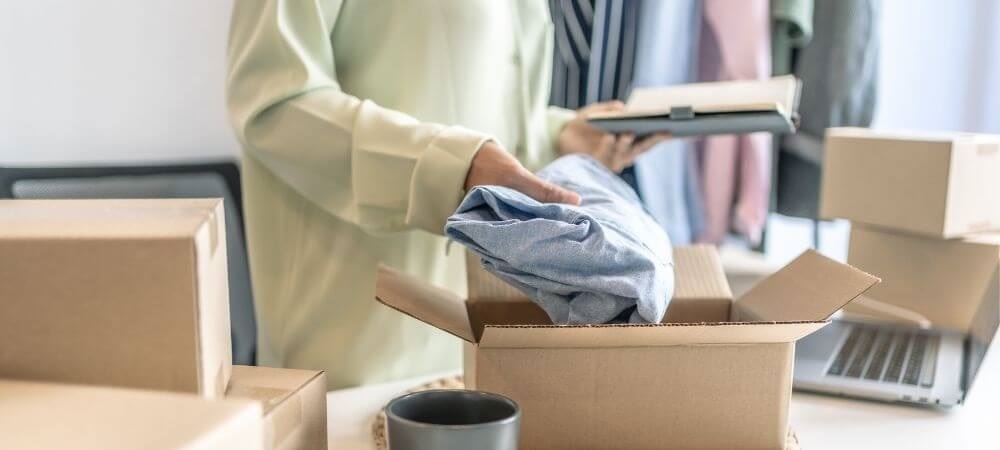 Residents at the Robson Senior Living communities have recognized the value of maintenance-free living. To prepare for their new lifestyle, many chose to declutter their home as part of the moving process. Oftentimes, moving can be a stressful experience. However, it doesn't have to be if you declutter, set a plan and give yourself plenty of time. If you are ready to move to a senior community and enjoy maintenance-free living, what can you do to reduce your moving stress?
The No. 1 response from most experts is this: declutter, declutter, declutter. But how do you do that and not get exhausted just at the thought of all that work? Take a deep breath and see what our decluttering leaders have to say.
GIVE YOURSELF TIME
Give yourself as much time as you can, six months if possible. Don't procrastinate — take it one day at a time, one room at a time, one closet at a time, or even just one junk-drawer at a time. Small steps add up to big gains that can help you feel empowered. Plus, you can feel ready to enjoy the maintenance-free lifestyle in your new apartment home, without the burden of decluttering after you move in.
Takeaway: It can be a tiring process, so start early, start small and keep moving.
MEMORIES AND EMOTIONS
Decluttering is a great way to reflect on a lifetime of memories and it can spark a variety of emotions.
Feelings to anticipate — some happy (a long-ago family vacation), some tearful (long-lost friends), some funny (look at that hair!). Take time to enjoy the memories.
Takeaway: Prepare for an emotion-filled journey. Visualize where your mementos will be in your new apartment home. Maybe create a new coffee table photo book to share with your new neighbors when they visit.
MAKE A DATE
Plan and calendar your efforts. For many seniors, it helps to have an assigned task on the calendar, i.e., "Tackle the guest bedroom closet today!". It just might give you the extra oomph you need to get going on the task at hand.
Takeaway: While being flexible is important ("I really don't feel like doing Closet A today, but I definitely can start on Closet B."), creating and sticking to an actionable plan is essential to decluttering success as well as peace of mind.
ASK FOR HELP
Do you have family members or close friends that can help you sort through mementos, etc.? Is someone skilled at gathering and organizing family photos? Do you or someone close to you know where to donate items you no longer use?
Takeaway: Ask for help from trusty family members or friends that will be helpful with ideas and suggestions.
In addition, the team at each of our communities are here to answer any questions you may have about making the move to a senior community. Reach out today and get answers to your questions.
HIRE A PROFESSIONAL
Many seniors have utilized professional organizing and decluttering companies to help increase the overall productivity of the moving process. These professionals have the knowledge and expertise to accomplish your goals in the most efficient and convenient manner.
Takeaway: Hiring professional assistance can ease your organizing and decluttering process with direction and guidance. The Robson Senior Living communities work with many professional companies in Arizona and are happy to provide you with a referral. Contact us today to learn more!
KEEP THINGS ORGANIZED
As you prepare to move to a senior community, being organized can offer a desired sense of relief. Organizing your belongings prior to moving can make daily tasks less stressful and can make moving into a senior community more predictable. To assist with the organization process, have plenty of boxes, tape, markers and trash bags on hand. In addition, brightly colored labels are easy to see, so use them liberally.
Takeaway: Add ease to the moving process by keeping things organized.
DECLUTTERING WITH CARE
Decluttering often leaves you with unwanted items and a decision on where to donate these. Large items such as furniture and televisions are often picked up by various non-profits, while easily transportable items (clothes, small appliances, etc.) can be taken to a donation center. Consider national organizations, of course, but also look at local organizations, etc.
Takeaway: Decluttering offers you an opportunity to donate unwanted items to those in need.
GET STARTED!
You're now ready to make decisions regarding the 'big 4' of decluttering: what to (1) keep, (2) donate, (3) designate or (4) discard. Be mindful of each item, but once you make a decision, move forward with it. Ask yourself:
Is this item useful? Have I used this in the last six months? If not, is it in decent condition and can someone else still get use it? Yes = donate or designate. No = trash.
Does the item have sentimental value? If so, is it truly valuable to me (keep) or to someone else who might enjoy it (designate)? Jewelry often has sentimental value but may no longer be something you wear. Consider repurposing these items. For example, take the stones from a treasured ring and have them made into earrings that you can gift to a daughter, granddaughter or niece. Get creative!
Is it valuable? Does this item have enough value to make it worth selling? Do you have many items that you believe might be worth selling? Consider contacting a reputable estate sale company or auction house. They can give you great insight and direction for selling items.
Should it be discarded? While most items you have designated as items to discard can simply be thrown out, paperwork may not be so easy. Decide which financial documents to shred, which need to be digitized, and which hard copies you need to save, etc.
TAKE ACTION
Don't let bags and boxes pile up — take them to where they need to go within a short time. Otherwise, the clutter tends to pile up and creates unnecessary stress.
Takeaway: Taking action means progress and gets you closer to your goal of moving to a senior community and enjoying a maintenance-free lifestyle.
FINALLY, MAKE IT FUN
Some experts say that hosting a "clutter-free party" is a fun and effective way to distribute items to family, friends and neighbors because it is an opportunity to give sentimental items away while sharing memories. Send out invitations and take plenty of pictures to capture the mementos!
Throughout the decluttering process, keep the end goal of maintenance-free living in sight. This benefit far outweighs the potential stress that moving can bring. Whether moving for independent living or assisted living, your move to a senior community comes with a new lifestyle, friendships, and joy.
ROBSON SENIOR COMMUNITIES
The Robson Senior Living communities offer a modern approach to retirement living with outstanding senior living options. Discover the luxurious amenities and exceptional services at each Robson Senior Living community.
Robson Reserve at PebbleCreek
Located in Goodyear, Robson Reserve at PebbleCreek has redefined independent living and assisted living in the Buckeye, Litchfield Park, Avondale, and Peoria areas. The Reserve in Goodyear is a perfect place for you to call home. Contact us today to learn more or to schedule a tour.
Robson Reserve at Sun Lakes
At Robson Reserve at Sun Lakes, the senior options include world-class independent living, assisted living, and memory care. Your next step…is a step up at Robson Reserve located in Sun Lakes, near Chandler, Gilbert, and Mesa. Reach out to us today for more information.
Are you ready to move forward, reach out to a Robson Senior Living representative for a referral to a professional that can help with planning, decluttering, and organizing.