How to Decorate Your Apartment Balcony in Arizona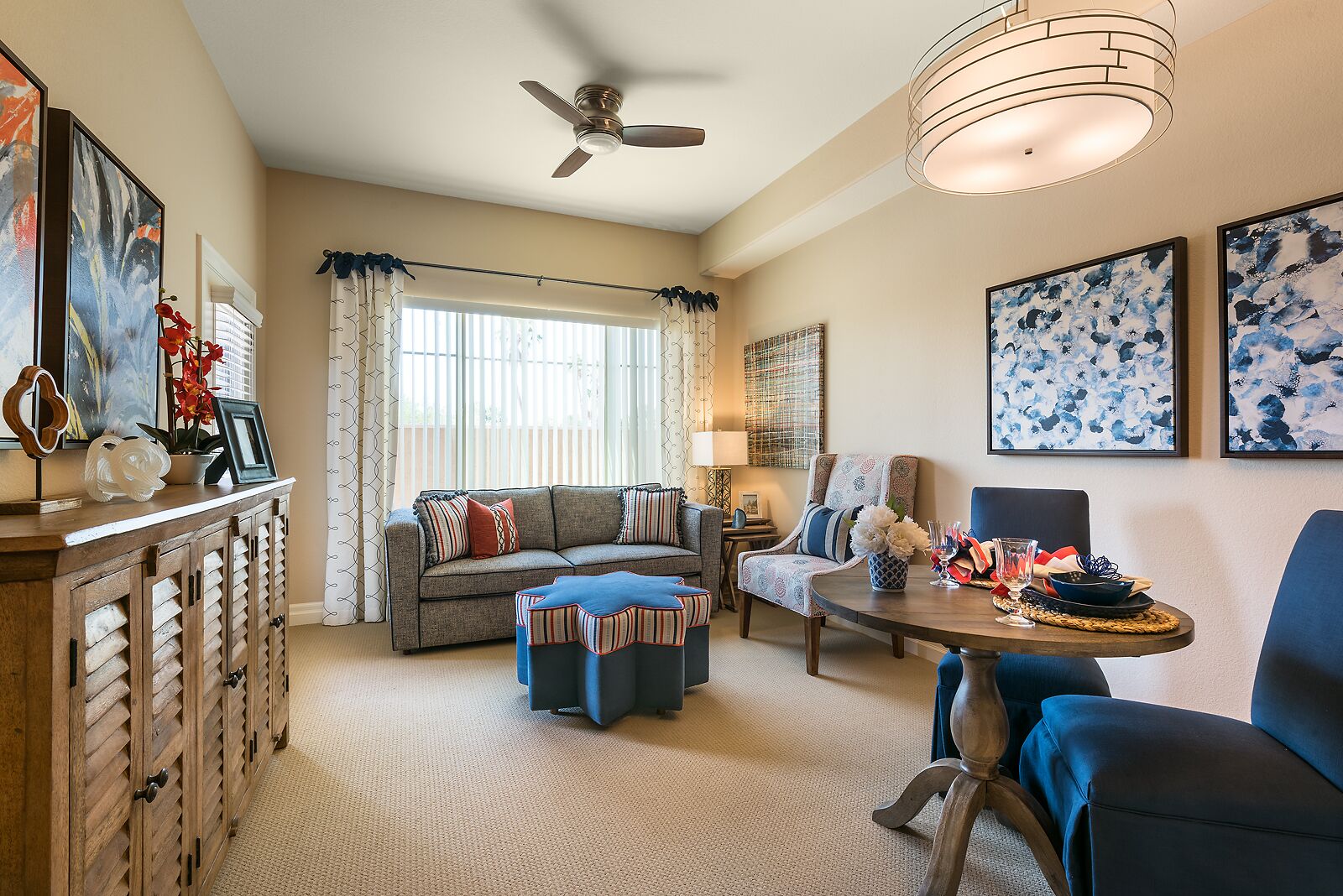 Tips for Decorating Your Apartment Balcony in Arizona
The balcony in your apartment is a personal outdoor oasis you can customize almost any way you want, and with a few simple design ideas you can be relaxing with Mother Nature in no time. Whether you're searching for ways to refresh your current decor or starting fresh in your senior apartment in Arizona, look at these 10 balcony design ideas to get inspired.
Choosing outdoor furniture for your balcony in Arizona is a lot easier said than done, because it needs to stand up to desert heat.While inexpensive plastic furniture comes in a variety of styles and colors, it lacks sturdiness and weakens when left in the heat.

This can lead to your furniture snapping unexpectedly.

The best outdoor furniture options for balconies in Arizona are made with treated wood, cast aluminum or resin wicker.
Use vertical space
Purchasing a vertical container garden is a simple way to maximize your outdoor space. There are vertical gardens that stand alone or lean against your wall. You can even create a DIY living wall by securing landscaping fabric on the back of a wooden pallet, packing it tightly with soil and filling it with your favorite plants. Just make sure you have a friend to help you move and lift your pallet, so you don't accidentally drop all your hard work.
Add color and patterns with an outdoor rug
One of the simplest balcony design ideas to liven up your outdoor space is a beautiful rug. Once you've decided which size outdoor rug works for your space, you can choose styles, patterns and colors that match the atmosphere of your layout. Rugs with bold colors refresh a currently decorated space, and fun patterns can give your balcony a whimsical feel.
Decorate with the right plants
There is plenty of gorgeous greenery available at your local nursery, but that doesn't mean they'll survive Arizona weather. Agave, aloe vera, adenium, bottlebrush plant, geraniums, marigolds, and zinnias are all great plants for an Arizona balcony. Many people have success growing dwarf citrus trees and Bonanza peach trees, because they grow easily in containers. Boxwoods are also great plants for the balcony in your senior apartment. They grow quickly and can be easily trimmed into fun shapes during the holidays.
Turn your railing into a breakfast bar
If you love to dine al fresco, then consider turning the railing of your balcony into a breakfast bar. You can buy a balcony table online or find DIY instructions to build one. The best part about using a balcony table is it looks incredible, and doesn't damage the railing. Bar carts are also a good way to make dining outdoors easier. Whichever method you use, make sure you use sturdy, durable dishes, so they won't blow away in the wind.
Make an artificial fire
It's no secret that fire and apartment balconies don't mix. You can still gain the ambiance of a glowing fire by using a few simple supplies you can find at any craft store. All you need to do is wrap outdoor LED lights around a pair of small logs or a bundle of sticks, and there you have it, an artificial fire that's perfect for cozy evenings at home. It's better to get solar-powered LED lights; that way, you won't have to worry about tripping over a cord or buying batteries.
Find furniture that doubles as storage
If you don't have a storage closet attached to your balcony, you can use furniture that doubles as storage. Ottomans can store blankets and extra pillows, and storage benches can hold bigger items like deflated kayaks, paddleboards or other sports equipment.  Use a peg board with hooks on your balcony wall to hold small items like gardening tools.
Create a space for your pet
The senior apartments at Robson Reserve at Sun Lakes are pet-friendly, which means you need to make room for your sunbathing, four-legged family member on the balcony. Pet beds with machine-washable covers are perfect for our dry Arizona weather, but canvas pet hammocks are a more low-maintenance way for your pet to lounge outside.
Attract butterflies to your balcony
Did you know butterflies migrate through Arizona to reach their winter home in Mexico? Twice a year, monarch butterflies make a long journey South to escape cold temperatures of more Northern states. Let them take a pit stop and fuel up on your balcony with nectar from their favorite flowers. Milkweed is the best flower to attract monarch butterflies to your balcony. However, it's toxic to pets. Cosmos and zinnia flowers are two great pet-friendly alternatives.
Don't be afraid to use artificial plants
Moving into a senior living community is all about a low-maintenance lifestyle. One of the best balcony design ideas for a senior apartment is using plenty of artificial plants. You can invest in ultra-realistic artificial plants. They'll look amazing on your balcony all year round.
Enjoy All the Extras and None of the Hassles at Robson Reserve at Sun Lakes
Many of the low-maintenance residences at our senior living community in Sun Lakes, Arizona, have private balconies and patios with plenty of space for your favorite outdoor décor. To learn more about independent living at Robson Reserve at Sun Lakes, contact our team online or call us at 480-883-2000. We'll be happy to schedule a tour or answer your questions!