Stunning Remodeled Amenities in Sun Lakes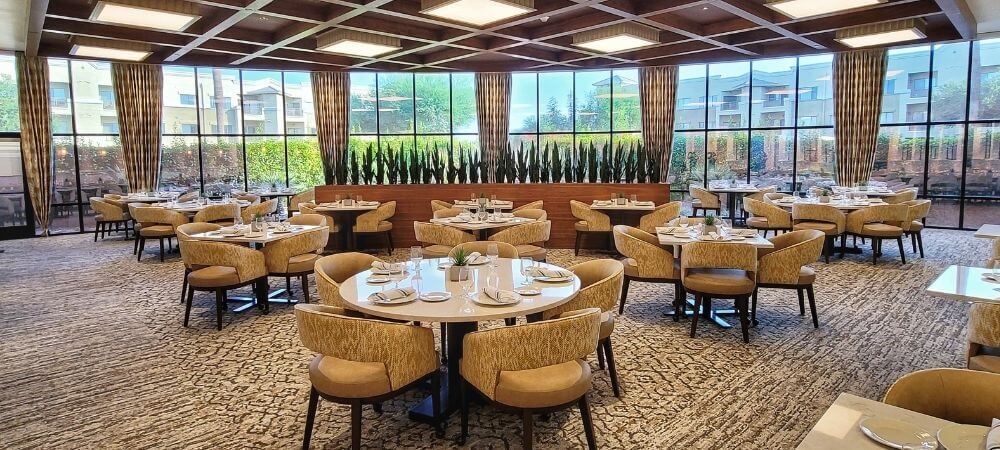 Robson Reserve at Sun Lakes, an outstanding Chandler area senior living community, has recently unveiled stunning remodeled amenities. The remarkable redesign effortlessly combines elevated elegance with a welcoming comfort, creating a vibrant sense of community for residents and visitors alike.
The heart of this renovation project was to create open, inviting, and versatile spaces. These spaces foster connections, social engagement, and a true sense of belonging among senior residents. The cherished Main Street and the dining room have undergone a complete transformation that includes:
fresh new flooring,
exquisite furnishings,
captivating art pieces,
tasteful light fixtures.
The color palette, reminiscent of classic wood tones blended with calming shades of greens and blues, lends an air of timeless sophistication.
The moment you step into Main Street, you are captivated by a breathtaking chandelier. The revamped Main Street perfectly complements the adjacent remodeled dining room, aptly named The Nest, enhancing the overall ambiance of the community.
James Robson, the Senior Vice-President of Senior Living, emphasized the significance of the dining room as a central hub for social connections, culinary indulgence, and shared memories. He expressed, "The dining room holds a special place in the hearts of residents, serving as a hub for socializing, culinary delights, and shared memories. To embrace the changing needs and desires of residents, the bright and airy remodel of Robson Reserve at Sun Lakes exceeds expectations."
Discover the Remodeled Dining Room
Step into the elegant dining room, where luxury meets functionality. A striking Hearth Oven takes center stage, promising an array of gourmet delights crafted with finesse. From tantalizing pizzas to delectable artisan bread, the Hearth Oven elevates the dining experience to unprecedented heights.
Not to be outdone, a dedicated Cooking Demo space invites residents to embark on a culinary journey like no other. Here, skilled chefs will showcase their expertise, engaging residents in interactive culinary experiences. These demonstrations will offer new recipes, cooking techniques, and culinary traditions, creating an immersive learning environment for all.
Seamlessly connecting various spaces and experiences, the remodel creatively ties together the dining room and the bar/lounge area. The revitalized "R" Bar exudes warmth and hospitality, fostering connections and enriching the overall living experience for residents. This inviting space encourages social interactions and new friendships to flourish.
Robson Reserve at Sun Lakes
At the Reserve at Sun Lakes, seniors from Chandler, Mesa, Gilbert, and additional East Valley cities come together to enjoy luxury senior living. With elegant amenities, attentive services, and ideal living options for seniors, the Reserve is a top choice for retirement.
We can't wait for you to see the stunning remodeled amenities in Sun Lakes! Join us for an upcoming event to see these updates or contact us today to schedule a tour.