Benefits of Senior Living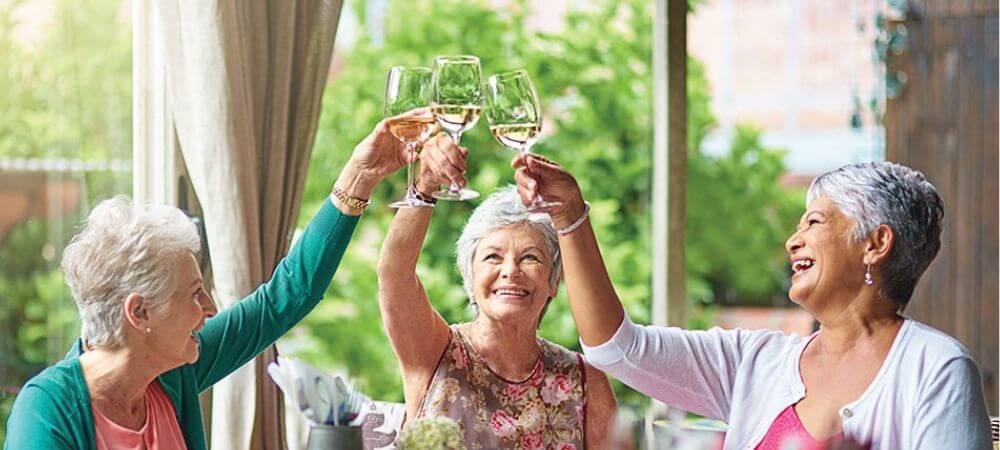 In decades past, the topic of "senior living" was often met with many unknowns. Since then, so much has changed — thank goodness!
Now, there are a wealth of benefits of senior living — a maintenance-free lifestyle, chef-prepared meals, a robust menu of activities, and a variety of living options with additional support if/when you need it. But as with any other major life decision, you need to carefully consider what you want and what you need.
Here are a few things to contemplate while deciding if senior living is right for you or your loved ones:
Live someplace new and exciting:
Senior living in retirement is the perfect time of life to try something entirely new and different. Simplifying your lifestyle, whether for independent living or assisted living, can allow you more time to enjoy an active and engaging lifestyle. If you have always enjoyed living in the West Valley, Robson Reserve at PebbleCreek in Goodyear keeps you close to all of your favorite attractions in the Avondale, Peoria, Estrella, and Verrado areas. Robson Reserve at Sun Lakes near Chandler keeps you close to your favorite shopping, dining, recreation, and more in the Gilbert, Mesa, and other East Valley areas. Or, perhaps you are ready to move to Arizona to discover what this great state has to offer. Either way, a Robson senior living community is a great place for a new and exciting lifestyle.
• Points to ponder: Want to live someplace warm and sunny? Do you enjoy living close to fun attractions, shopping, or outdoor recreation?
Enjoy an active, social lifestyle:
A top-notch senior community will offer an all-encompassing lifestyle calendar featuring a variety of fitness, cultural, educational, and social activities that cover a wide range of interests. The culture at a Robson Reserve senior community is designed to make your life better in every way. You will enjoy myriad activities for fitness and wellness along with social activities such as game nights, happy hours, entertainers, and much more. See a sample activities calendar for Robson Reserve at PebbleCreek and Robson Reserve at Sun Lakes.
• Points to ponder: Are you a fitness-focused individual? Do you love to socialize with small groups and/or enjoy concerts and shows? Are lifelong learning opportunities important to you?
Chef-prepared food and plenty of dining venues:
Selecting a community for retirement senior living with a rotation of menus (that includes a staple of residents' favorites) is critical to most residents' daily happiness. Nutritious, delicious food and abundant dining options are a terrific balm to both body and soul.
• Points to ponder: When checking out a community, ask if the food is chef-prepared, seasonal and fresh. Does the staff cater to food preferences, allergies and/or medical requirements? Are there various eateries and venues, i.e., formal and casual, café, grab-and-go, a snack station, etc?
The niceties of daily living:
At this stage of the game, it's a well-deserved luxury to kick back, relax and appreciate niceties such as a maintenance-free lifestyle and scheduled housekeeping. Bonus points for linen services!
• Points to ponder: Confirm the details since "maintenance-free" and similar terms can mean different things to different people. Be sure what is described matches what you prefer.
Professionally designed floorplans:
A top senior community will feature professionally designed floorplans focused on making life comfortable and easy. In addition, a great community for seniors boasts multiple floorplans so that living there doesn't have that "cookie cutter" vibe. You know what we mean. At each Robson Reserve community, you will find professionally designed floorplans with designer features and much more. View the Robson Reserve floorplans now – Robson Reserve at PebbleCreek | Robson Reserve in Sun Lakes.
• Points to ponder: Are the residences spacious, comfortable and homey? Is there a lot of natural light? Research shows that regular access to sunlight can directly affect one's mood and serotonin levels.
Happy staff members:
A senior living community's ambiance is often a reflection of how happy the staff is to be employed there. Visit several times and decide if you feel that the staff is friendly, attentive, and likes working there. The teams at the Reserve senior communities enjoy coming to work each day and building meaningful relationships with the residents while providing the best care. Learn more now about the team at Robson Reserve at PebbleCreek or Robson Reserve at Sun Lakes.
• Points to ponder: What is the employee culture? Are team members eligible for awards and other accolades? Ask about the longevity of team members.
Long-term options if needed:
Senior living residents want to be able to cultivate a vibrant, active lifestyle in the here and now, but also have the peace of mind that if the situation arises, on-site continuum of care options are available without having to move to an unfamiliar community. At Robson Reserve in Sun Lakes, living options include independent living, assisted living, and memory care. Learn more about the living options at this Chandler area senior community now.
• Points to ponder: Does the community you're evaluating have distinct and/or hybrid levels of care? Are you able to easily relocate to an alternative part of the same campus if need be?
"I/We wish we'd moved here sooner!":
Talk to current residents and their families. Seek out social media reviews. You want to learn the good and not-so-good but keep in mind that what's good or bad for one person might be not-so-good or not-so-bad for another and vice versa. You may also discover a few additional benefits of senior living.
• Points to ponder: If one of the phrases you hear over and over is "I/We wish we had moved here sooner!" you just might have found the ideal senior living community for you or your loved ones.
After considering the benefits of senior living and learning about lifestyle, floorplans, and points to ponder, are you ready to experience this firsthand? Contact us and let's talk about touring one of the Reserve senior living communities so you can see the luxurious amenities and floorplans as you experience the overall lifestyle.