A Guide for Seniors Downsizing to an Apartment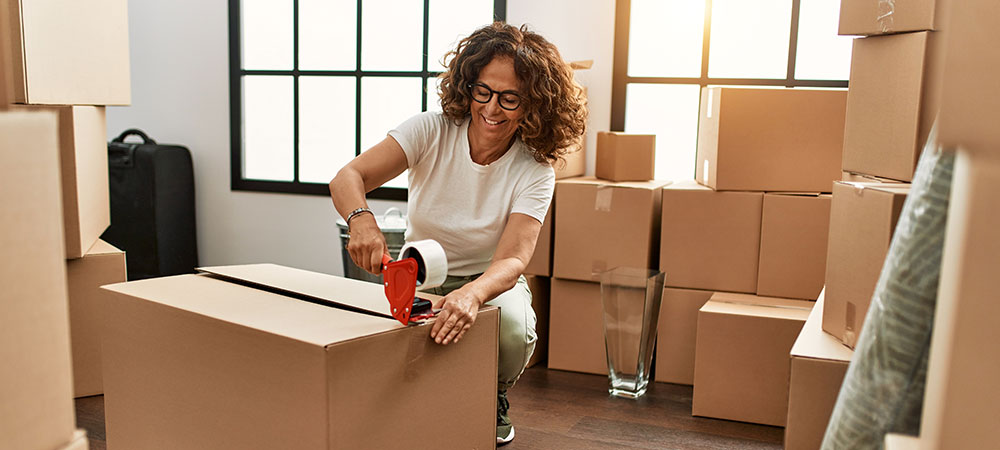 You've made the big decision to move into a senior apartment, and it's time to start downsizing. However, the process may feel overwhelming as soon as you take inventory of all the items filling your home.
That's why our senior living experts at Robson Reserve at Pebble Creek put together this quick guide on downsizing and decluttering. Read these six tips on preparing to move into a smaller space, and get ready to thrive in your new apartment.
1. Start with a plan
It's best to start with a plan, because some rooms of your house require more work than others. For instance, many people underestimate how difficult it is to declutter a kitchen or downsize furniture in the living room. Schedule up to a week to downsize certain rooms of your home, so you have enough time to complete the process before you move.
A great way to get started is by going over the details of your floor plan. You'll see how items will fit in your new senior apartment, and if it's better to start fresh with smaller furniture. 
2. Only downsize one room at a time
It's important to only downsize one room at a time, so the process is not overwhelming. Start with rooms you don't use often, like a guest room or office, and resist the urge to move on to another room when you're done. Make sure you get help with areas like the attic, basement, garage and tall shelves. 
As you sort through the items of a particular room, try to decide that very moment where its place will be in your new apartment. If you can't think of where to store or place an item, it probably needs to be gifted to a charity or thrown away.
3. Get a head start on sorting through paperwork 
Though it may not take up much space, old paperwork certainly requires a lot of work to sort through. Old bank statements and warranties to appliances you no longer own can be shredded, and many other important documents can be scanned and turned into digital files. 
It's best to start going through your paperwork as soon as possible, because it takes a lot of time and you might want to get this boring, yet essential, downsizing task finished quickly, so you can move on to something more exciting. 
4. Don't let items you want to donate sit around
It's easy to let items you want to donate sit in your house, because it can be a bit of a hassle getting them into your car and across town. However, when items you don't need or want remain in your house as you downsize, it's difficult to see how much progress you've made. 
When you schedule time to downsize a room, try to add time for physically taking your items to be donated. They'll be out of your house, and you'll feel more accomplished about decluttering and downsizing. 
5. Get creative with sentimental items
Valuables like heirloom furniture, wedding dresses, and large collections can be extremely hard to let go of as you downsize. Thankfully, there are creative ways to keep special items with you, without having to worry about them taking up too much space. 
For instance, you can take pictures of your house before you downsize, then create a photo album filled with stories about each item. For extensive collections, keep your favorite pieces, display just a few of them on a shelf, and rotate them seasonally to refresh your home décor.
6. Ask your new neighbors to show you around the community
Your neighbors at Robson Reserve at PebbleCreek have been through the downsizing process and are already enjoying luxury senior living. Don't be afraid to ask them for downsizing tips and to show you around the community. You'll be surprised how easy it is to make new friends and feel at home in your new apartment.
With features like Happy Hours, live entertainment, on-site farmers markets and gourmet dining, you'll wonder why you didn't move into our senior living community sooner.
Find a New and Improved Lifestyle at Robson Reserve at PebbleCreek
Whether you want a residence you can safely leave behind while you're on vacation or simply desire to leave behind the hassles of homeownership, our senior living community in Goodyear, AZ, has one- and two- bedroom apartments that are the right fit for your retirement. Contact Robson Reserve at PebbleCreek online or call us at 1-800-940-9697 to learn more about our senior apartment floor plans.