The Most Picturesque Scenic Drives to Take in Arizona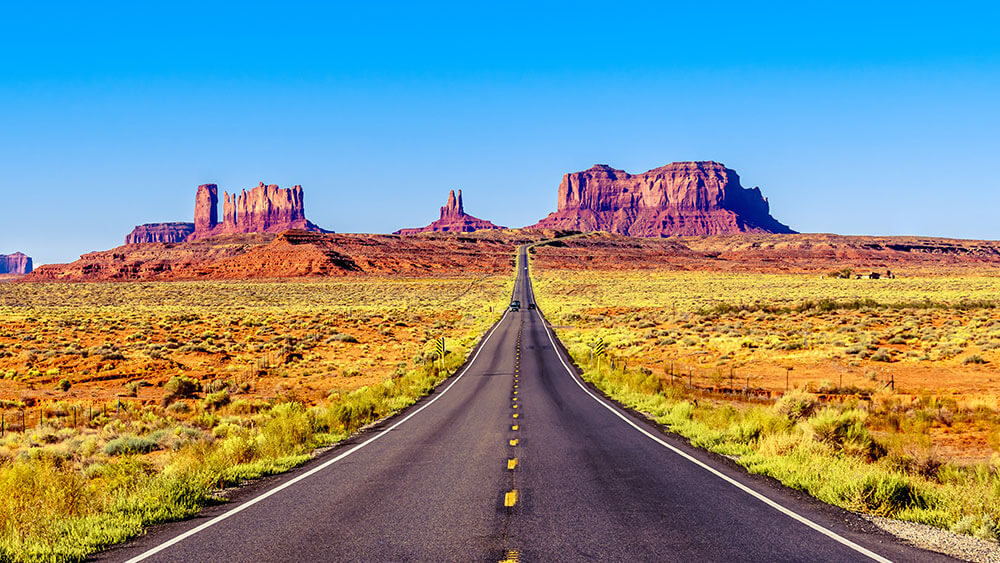 Whether you're interested in a big adventure or just an afternoon getaway, Arizona's scenic drives are the perfect way to melt stress away and spend time with your loved ones. 
Come along with Robson Reserve at PebbleCreek as we take you through some of the best drives near our senior living community, and get ready to plan your next great escape.
Find Your Sense of Adventure on the Apache Trail
The Apache Trail was originally used by Native Americans to travel through the Superstition Mountains for more than 1,000 years. Today, much of the trail is paved, but it still winds through rugged desert mountains and past deep lake reservoirs, like Canyon Lake. 
Locals say the best time to drive the Apache Trail is in the spring. It starts approximately 50 minutes east of downtown Phoenix, just outside of Apache Junction and continues until you reach Globe.
You can take in the breathtaking views of this scenic Arizona drive or stop to explore places like Goldfield Ghost Town, Fish Creek Hill or Tortilla Flat, AZ, an Old West  town featured on Discovery Channel that boasts a population of six and world-famous prickly pear gelato.
While many portions of Apache Trail, like Route 88 and Apache Boulevard in Tempe, are fine for any type of vehicle, there are portions of this drive not recommended for RVs, large SUVs, or vans. That's because these areas were built to accommodate wagon routes for the construction of the Roosevelt Dam from 1902 to 1909.
Discover History on Your Way to Salt River Canyon
Beginning on the eastern edge of Phoenix, Arizona's stunning Salt River Canyon route exposes incredible views of canyon walls and blue waters of the Salt River. It also winds through several old mining towns and a fascinating prehistoric Native American settlement, Besh-Ba-Gowah Archeological Park. 
Start your drive at Apache Junction and progress east on Highway 60 through Superior and Globe. Then head northwest toward the White Mountains. From Phoenix to the bottom of Salt River Canyon and back is about 270 miles. 
Interesting sites to see along the way include Queen Creek Tunnel, historic downtown Globe, and Boyce Thompson Arboretum, Arizona's largest and oldest botanical garden. The best seasons to drive the Salt River Canyon route are winter, spring and autumn. 
Drive an All-American Road that Leads to Red Rock Country
The Red Rock Scenic Byway, an All-American Road and one of the most famous scenic drives in Arizona, takes you through Sedona's Red Rock Country. Often called a "museum without walls," this byway dazzles drivers with prehistoric rock formations, evergreen-covered forests and beautiful wildflowers. 
From Goodyear, AZ, it takes about two hours on Interstate 17 South to reach Red Rock State Park, and the byway itself is only a 20-minute drive. However, the U.S. The Department of Transportation recommends setting aside several hours to enjoy all available activities. 
The best time to visit Red Rock State Park is during spring and autumn, because the weather is mild. Notable sites include Oak Creek Canyon, Tuzigoot National Monument and the Coconino National Forest. This byway is safe for all vehicles and even provides RV-friendly parking. 
Visit Saguaro National Park for Two Incredible Arizona Scenic Drives
Saguaro National Park includes two of Arizona's most scenic drives, the Cactus Forest Scenic Loop and the Scenic Bajada Loop Drive. 
The Cactus Forest Scenic Loops is a paved road that features up-close views of famed saguaro cacti, as well as other types of cacti, including barrel, hedgehog, and prickly pear. This loop also has several scenic vistas and trail heads. 
The Scenic Bajada Loop is a popular way to explore the foothills of Saguaro National Park. This loop is unpaved, but you won't need a high-clearance or four-wheel drive vehicle to enjoy it. Keep in mind that the Cactus Forest Scenic Loop and the Scenic Bajada Loop don't permit vehicles wider than eight feet or those with trailers longer than 35 feet.
It takes just a little less than two hours on Interstate 10 West to reach Saguaro National Park from Robson Reserve at PebbleCreek. Sites to see along the way include Picacho Peak State Park, Titan Missile Museum and the Arizona Veterans Memorial Cemetery.
For an Easy Afternoon Adventure, Explore Parks Near Goodyear
If you're in search of a local scenic drive, Estrella Mountain Regional Park is just a 19-minute drive from our senior living community in Goodyear, AZ. This local park features 20,000 acres of pristine desert, majestic mountains and large wetland areas. It's a simple drive for a relaxing afternoon, and locals say it's the perfect spot for lunch. Estrella Mountain Regional Park also boasts well-marked trails for all levels of hikers.
Robbins Butte Wildlife Area is just 34 minutes away from Robson Reserve at PebbleCreek. It features ruins and petroglyphs, tamarisk thickets, and a diversity of habitats that include wildlife. 
Come Home to Luxury Senior Living at Robson Reserve at PebbleCreek
Wherever you roam, make our senior living community in Goodyear, AZ, your home base. To learn how you can surround yourself by Southwestern beauty and the highest level of hospitality and elegance, contact our team online or call us at 1-800-940-9697. We're happy to answer your questions!