SENIOR LIVING APARTMENT RESIDENCES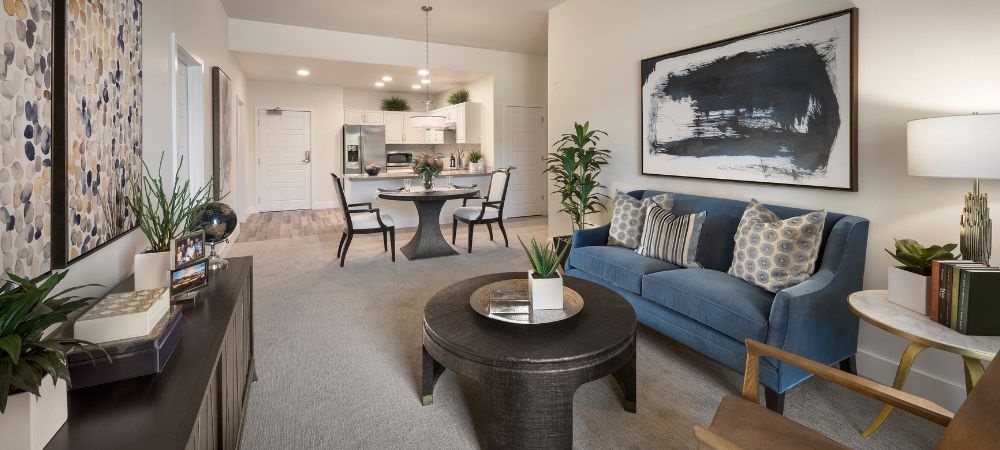 At the Robson Senior Living communities, Robson Reserve at Sun Lakes and Robson Reserve at PebbleCreek, retirement living includes outstanding apartment residences. From a comfortable one-bedroom to an expansive two-bedroom, each community offers a variety of floor plans to fit your lifestyle. Choosing an apartment residence can be an exciting time as it is an opportunity to personalize your new floor plan with your favorite furniture and décor while having the benefits of low-maintenance living and high-end finishes.
If you are ready to explore the senior living apartment residences, then you might be wondering where your furniture will fit best. For example, which wall best suits your favorite recliner? Should the bed be on the east side of the apartment or the west? Or maybe you are considering a new living room set for your new apartment and are curious how it should be arranged. Will a loveseat fit better than a full-size sofa? These are all points to consider which is why we offer an Interactive Room Planner that lets you visualize your floor plan.
INTERACTIVE ROOM PLANNER
Virtually organizing your new apartment with the Interactive Room Planner lets you easily move things around to see what works. Once you select a floor plan you like, click on the + symbol underneath the plan and select Interactive Room Planner. From there, you can click and drag the furniture to a new wall or position and voilà — you can easily see the changes.
Virtual pieces of furniture include:
Beds (Twin, Full, Queen, King)
Dresser
Nightstand
Sofa
Recliner
Dining table
Desk
And much more
The Interactive Room Planner even allows you to share, save and/or print your layouts.
INDEPENDENT LIVING FLOOR PLANS
Independent living apartment residences are great for those who are ready for low-maintenance living and the advantages of luxury amenities, activities and additional community offerings. Click on a link below to discover the independent senior living housing options at each community.
Robson Reserve at Sun Lakes Independent Senior Apartments
The independent living senior apartments at Robson Reserve at Sun Lakes range from 641 sq. ft. to 1,160 sq. ft. Take a look at the floor plans, amenities, services and more available at this east valley senior community.
Independent Living Floorplans
Robson Reserve at PebbleCreek Independent Senior Apartments
Designed with you in mind, the independent living apartments in Goodyear range from 696 sq. ft. to 1,184 sq. ft. Find your perfect floor plan design below.
Independent Living Floorplans
FLOOR PLANS FOR ASSISTED LIVING
Thoughtfully designed floor plans for assisted living at each community offer open designs with attractive features. Explore the floor plans below.
Assisted Living Floorplans at Robson Reserve at Sun Lakes
The inviting assisted living floor plans at this Chandler area senior community range from 749 sq. ft. to 1,070 sq. ft. Discover the one- and two-bedroom plans.
Assisted Living Floorplans at Robson Reserve at PebbleCreek
Ranging between 696 sq. ft. and 1,184 sq. ft., you're sure to find an assisted living floor plan at this Goodyear senior community that you will love. See the floor plans below.
Assisted Living Floorplans
MEMORY CARE FLOOR PLAN
Memory Care is available at Robson Reserve at Sun Lakes and offers a studio residence. See the Memory Care floor plan and learn more about the specialized services.
SEE THE FLOORPLANS | SCHEDULE A TOUR
You will feel the luxury and comfort in each senior living apartment residence at Robson Reserve at Sun Lakes and Robson Reserve at PebbleCreek. Why not schedule a tour today and see the community for yourself?
Schedule a tour today!
*All dimensions and measurements, including without limitation square footages, ceiling heights and window sizes, styles and locations, are approximate and may vary per floorplan. Measurements in model residences may vary slightly without incurring any obligation or liability. Actual residence measurements will vary.