Benefits of a Rental Community vs. a Buy-In Community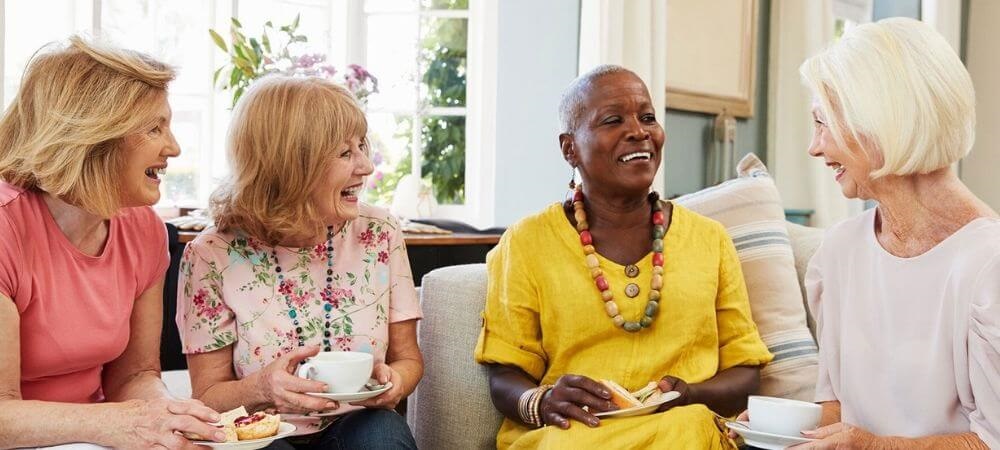 When you have made the choice to move to a senior community, you may first consider your needs and preferences. Your next consideration will most likely be to evaluate your finances and choose between a rental senior community and a continuing care retirement community with a "buy-in" requirement. While both options have some similarities, they do have significant differences that may ultimately determine your choice. Let's delve into both options and discover the benefits of a rental community vs. a buy-in community for senior living.
Buy-In Community Senior Living Option
A buy-in community typically requires a significant initial buy-in fee along with a lifelong commitment to living there. While the steep upfront cost often deters many from choosing a buy-in community, many are attracted to having access to higher levels of care as needs change. Oftentimes, residents move into an independent living campus and progress to assisted living, skilled nursing, and memory care. Residents who join a buy-in community expect additional care to be available when it is needed. However, due to a lack of effective planning by community ownership and the ongoing health changes we experience as we age, many residents discover that care in the most appropriate environment is not always available as was promised.
The buy-in community model offers an ownership-style arrangement with residents essentially purchasing an apartment home or condo. This may also mean that the resident is responsible for upkeep, renovations, and other expenses typically associated with traditional homeownership in addition to any monthly community and service fees. When a resident is no longer with us, the resident's family or estate may be responsible for paying the monthly community fee's until the residence is resold.
Buy-in senior communities can take the curiosity out of what happens when care needs change, but realistically, the upfront costs often prevent seniors from qualifying for this option.
Rental Community Senior Living Option
The rental community option offers a more straightforward approach to senior living. Residents pay a monthly fee based on the needed level of care. As needs change and more care is necessary, the costs increase. Typically, rental communities offer a one-year lease agreement, so no long-term contracts are required. Rental communities for senior living offer numerous benefits that cater specifically to the unique needs and preferences of older adults. Here are the top advantages:
1. Flexibility: Rental communities provide seniors with the flexibility to choose their desired length of stay. They don't have to worry about long-term commitments or financial obligations associated with purchasing a property.
2. Maintenance-free living: One of the most appealing aspects of rental communities is the maintenance-free lifestyle they offer. Seniors can enjoy their living spaces without having to worry about home repairs, lawn care, or other maintenance tasks. The community management takes care of these responsibilities.
3. Financial predictability: Renting in a senior community provides financial predictability, as residents know their monthly costs upfront. They do not have to worry about unexpected expenses related to property taxes, insurance, or maintenance, as these are typically part of the monthly rent.
Choosing a Senior Living Option
The rental community option and buy-in option both have their own advantages. When it comes to choosing a senior living option, your needs and budget may drive your decision to choose one option over another. Both options often have the same perks. Here are a few of the top benefits of living in a senior community:
1. Amenities and services: Senior communities often feature a wide range of amenities and services designed to enhance residents' quality of life. These may include fitness centers, swimming pools, social and recreational activities, on-site dining options, housekeeping services, transportation assistance, and more.
2. Socialization opportunities: Living in a senior community provides many opportunities for social interaction and companionship. Seniors can connect with like-minded individuals, participate in group activities and events, and form new friendships.
3. Safety and security: Many senior living communities prioritize the safety and security of their residents. They may offer 24/7 security personnel, emergency response systems, secure entrances, and well-lit common areas, providing peace of mind for both residents and their families.
4. Accessible design: Communities for seniors often incorporate universal design principles, ensuring that living spaces are accessible and accommodating whether for independent living or assisted living residents. This can include features such as wheelchair ramps, grab bars, wider doorways, and walk-in showers, promoting independence and reducing the risk of accidents.
5. Freedom and independence: Living in a senior community allows older adults to maintain their independence while enjoying a supportive environment. They can choose the lifestyle that suits them best and have the freedom to engage in activities and interests that bring them joy and fulfillment.
It's important to note that the specific benefits may vary from one rental community to another, so it's recommended to research and visit different communities to find the one that aligns with your needs and preferences.
Discover the Robson Senior Living Rental Communities
The Robson Senior Living communities, Robson Reserve at Sun Lakes and Robson Reserve at PebbleCreek believe in offering seniors flexible living options. Each Robson Senior Community is a rental community model with a variety of care. Levels of care include independent living, assisted living, and depending on the location, memory care.
Living in one of the Reserve rental communities includes weekly housekeeping, gourmet dining, luxury amenities, most utilities, concierge services, activity programs, transportation for shopping and medical visits, and much more.
Both of the Reserve senior living communities are located in popular areas of the Phoenix-Metro area. Robson Reserve at Sun Lakes is located in the east valley near Chandler, Mesa, and Gilbert in Sun Lakes. Robson Reserve at PebbleCreek is located in Goodyear, near Buckeye, Avondale, Litchfield Park, and Verrado. Click on a community below to learn more about the lifestyle, services and amenities, care options, and available floorplans.
Robson Reserve at Sun Lakes
Robson Reserve at PebbleCreek
The Robson Senior Living teams want to help you find a senior living community that fits your needs. Contact us today to schedule a community tour and realize the benefits of a rental community for senior living.