6 Things to Know About Senior Living in Goodyear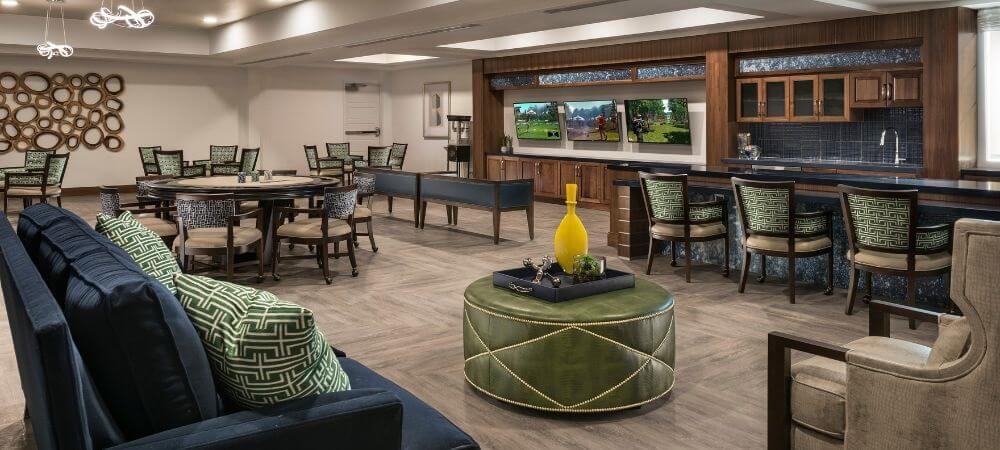 Are you considering a move to a senior living community in Arizona? Goodyear, located in the Phoenix Metro area, is perfect for seniors seeking an ideal location to enjoy their retirement. This vibrant city offers an array of benefits that make it a prime destination for senior living. Here are 6 things to know about senior living in Goodyear and why it's an excellent choice for those looking to make the most of their retirement years.
1. Cultural & Recreational Amenities
Goodyear's commitment to enriching the lives of its residents is evident in its numerous cultural and recreational amenities. The Goodyear Ballpark, spring training home to the Cleveland Guardians and Cincinnati Reds, offers baseball enthusiasts the opportunity to watch games up close. The city also hosts various art exhibitions, musical performances, and community events, ensuring there is always something exciting to do for seniors.
2. Abundant Outdoor Activities
Active seniors will find plenty of opportunities to explore the great outdoors in Goodyear and the nearby cities of Buckeye, Litchfield Park, and beyond. The city's extensive park system features numerous walking and hiking trails, as well as numerous golf courses for enthusiasts. Nearby Estrella Mountain Regional Park offers breathtaking vistas, wildlife, and hiking trails for those who love being in nature. It's a haven for outdoor enthusiasts who want to stay fit and active. Plus, the White Tank Mountain Regional Park in nearby Waddell offers several trails for hiking, campgrounds and event ramadas.
3. Beautiful Year-Round Weather
With so many amenities and activities to enjoy in the area, it's nice to enjoy these benefits with desirable weather. One of the standout features of Goodyear, Arizona is its unparalleled climate. With plenty of sunshine each year, the weather here is nothing short of delightful. The mild winters and warm, dry summers provide an ideal environment for outdoor activities, allowing seniors to stay active and enjoy the sunshine year-round.
4. Excellent Healthcare Facilities
Goodyear is home to several top-notch medical facilities and healthcare providers. This includes the Banner Estrella Medical Center, a full-service hospital offering a wide range of medical services. Access to quality healthcare is a significant concern for seniors, and Goodyear ensures that residents have peace of mind when it comes to their health and wellness.
5. Friendly & Inclusive Community
Goodyear is known for its warm and welcoming community. Seniors will find it easy to find new friends and join social activities tailored to their interests. This sense of community is particularly essential for seniors looking for a support system and a place to foster meaningful relationships.
6. Convenient West Valley Location
Goodyear's location is another significant advantage when considering a location for senior living. It's situated in close proximity to both Phoenix and the nearby city of Glendale. This means seniors can easily access big-city amenities, including shopping, dining, and entertainment options. The city is also conveniently located roughly 25 miles from Phoenix Sky Harbor International Airport, making it easy for friends and family to visit.
While these are only 6 things to know about senior living in Goodyear, the cities dedication to providing abundant recreational offerings makes it an excellent choice for those looking to make the most of their golden years. Living in Goodyear offers seniors a unique blend of activities, healthcare, sunshine, and a welcoming community. If you're considering your options for senior retirement destinations, Goodyear should be at the top of your list. It's a place where seniors can truly thrive and enjoy their retirement.
Explore Senior Living at Robson Reserve in Goodyear
In addition to the wonderful benefits of being in Goodyear, Arizona, Robson Reserve at PebbleCreek takes these benefits to a greater level with luxury senior living options. Whether you are independent and ready for low-maintenance living or looking for some assistance with daily living, here are 6 things to know about senior living in Goodyear at Robson Reserve.
1. High-End Amenities & Features
The lifestyle at Robson Reserve includes luxury amenities and features representing that of a high-end resort. From the concierge services, and organized tours and events to the upscale dining, beauty salon, barbershop, and game room, you're sure to be impressed. Learn more about the amenities and features available at this West Valley community for seniors.
2. Activities for All Interests
Whether you are interested in a game of billiards or a trainer-led yoga class, the activities at Robson Reserve aim to delight senior residents and keep everyone engaged. Does a book club discussion, fitness class, or happy hour with neighbors pique your interest? These are just a few of the popular activities you can enjoy within the community. Take a look at more activities as well as a sample activities calendar. 
3. Low-Maintenance Lifestyle for Senior Living
Making a move to Robson Reserve at PebbleCreek enables you to invest your time and energy into things you truly enjoy rather than the upkeep and maintenance of your home. Fill each day with moments of joy, nurture your relationships, discover new hobbies or renew your interest in a favorite pastime. Independent living residents enjoy the low-maintenance lifestyle at the Reserve in Goodyear and the benefit of having access to on-site assisted living should the need arise. Learn more about the living options at Robson Reserve.
4. Wellness Program
Our senior living community believes in creating a lifestyle of wellness and our life enrichment director is ready to assist you in creating a personalized and enjoyable plan tailored to your goals. Wellness programs are designed for a purpose-filled life that keeps residents engaged. Robson Reserve promotes the 7 Dimensions of Wellness outlined by the International Council of Active Aging and we believe that the better you feel, the more you can accomplish, and vice versa.
5. High-End Senior Residences
Each luxury residence at the Reserve in Goodyear offers high-end finishes and beautiful designs. You will appreciate the beautiful quartz countertops, modern appliances, and the attention to detail in creating each elegant floorplan. See the floorplans available at Robson Reserve at PebbleCreek. 
6. West Valley Location
Once again, the West Valley location of Robson Reserve sets this senior living community apart from others in Goodyear. Whether you are looking for independent living near Buckeye or assisted living near Estrella, the location of the Reserve at PebbleCreek makes it an ideal option for senior living. Curious about what attractions, activities, or restaurants are nearby? View our Vicinity Map to find out more. 
When it comes to choosing a community for senior living, there are many things to consider and choices to make. At Robson Reserve at PebbleCreek, we understand you may have questions and concerns and we are happy to assist you in finding your ideal senior living community. Reach out to us today and let us help you in your retirement journey.